Save 50% off your new Virtual Office membership in months 2 and 3.
This offer is available only for new customers enquiring about a Virtual office during the period 18th January 2023 to 30th April 2023.
Half-price months are months 2 and 3 in your first 12 months of membership.
This is a website-exclusive offer available only to new customers enquiring directly with Inigo Business Centres on the inigo.co.uk website and not through any third parties.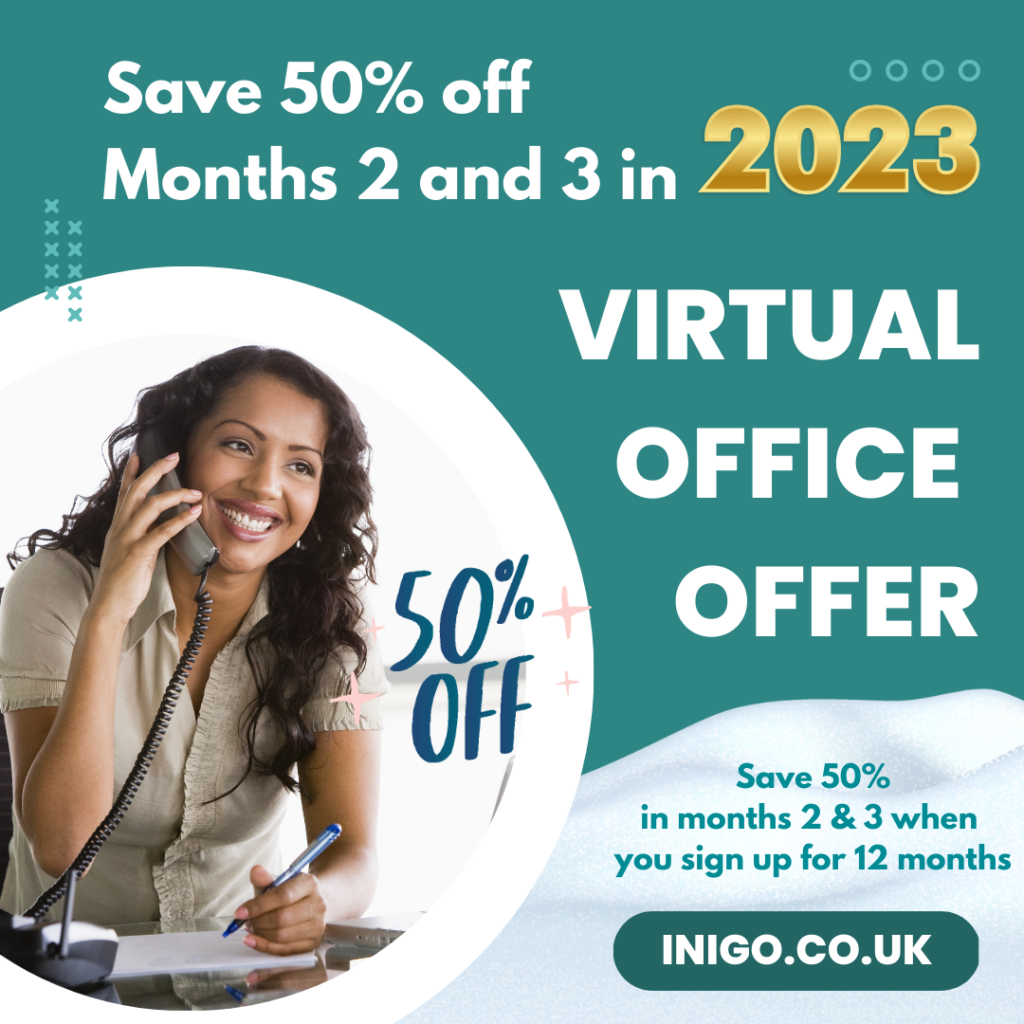 Virtual office promotion terms and conditions
Details of products and services are correct at the time of publishing and are subject to availability or change without notice.
Offer is subject to availability and normal product terms and conditions.
The discount applies after the initial month has been paid in full and applies to Virtual Office membership only. Charges may be applicable for additional services.
Deposit and set-up charges will be payable as per company standard terms and conditions.
Set-up charges are non-refundable.
Inigo reserves the right to amend this offer at any time.
Offer is open to new Virtual office customers only, applies to first purchase only, and is limited to one company or transaction.
Offer is subject to a minimum 12-month virtual office contract
Offer applies to all Inigo Business Centres subject to availability. UBCUK Partner office locations are also included in the offer.
Offer must be validated by the signature of an authorised Inigo Sales member.
This offer is non-transferable and cannot be used in conjunction with any other offer.
This offer cannot be exchanged for cash.
Cancellation of the virtual office membership prior to the conclusion of the initial 12 months will void this offer and full charges will be applied.
Valid for enquiries made and memberships signed and paid during the period 16th January 2023 – 30th April 2023
Customers must start the service within 2 weeks of signing the contract for the offer to be valid.
Customers will be required to agree to Virtual Office Terms and Conditions.
Please quote Promo ref: InigoVO23
Find out more about Inigo Virtual Offices here