Welcome to Blackwell House, where sophistication meets functionality in the vibrant heart of The City of London, the epicentre of the financial district.
Nestled within the charming Guildhall Yard, our business centre boasts office space to rent in an exquisite vantage point overlooking the esteemed Guildhall, preserving its historical grandeur and ambience. The period features add a touch of opulence, whilst The City's oldest operational lift stands as a testament to time-honoured traditions fused with contemporary efficiency.
Our amenities extend beyond office spaces, encompassing a welcoming reception area, well-appointed meeting rooms, and convenient shower facilities. Experience the fusion of heritage and modernity at Blackwell House – not just a location, but a thriving hub where your business aspirations flourish. Flexible workspace suitable for teams of between 4 and 12 people.
Available Office Spaces In London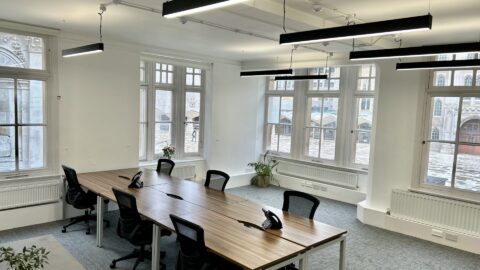 Our Offices
Our fully serviced offices range in size between 80 and 480 sq ft, suitable for businesses seeking space for up to 10 staff.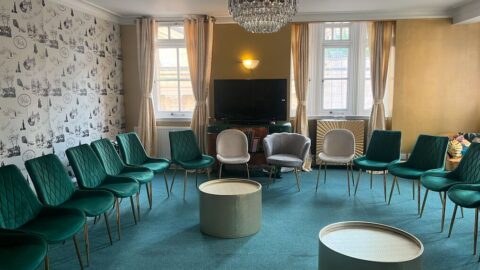 Bespoke Office space
This bespoke space was created to our client specification to reflect their brand.
What's Included
Rent
Reception Services
Business Rates
Utilities
Complete Building Management
High-Speed Connectivity
24/7 Access
Cleaning
Why Choose Inigo?
Inigo offers the most flexible of terms for serviced offices with no minimum of a year. The individual locations of Inigo centres are highly desirable and some have spectacular outlooks such as Changing of the Guard in Windsor and Pageantry events in Guildhall Yard in the City of London. The business environments within Inigo buildings cater for the entrepreneur and are inducive to a successful business. Inigo provides consistently good value across all its centres.
What Our Customers Say
"Our firm has offices with Inigo Business Centres at Blackwell House, Guildhall Yard. The staff at Inigo Business Centres are always warm, professional, proactive, helpful and friendly.
They actually go the extra mile to ensure that your business is perceived in a positive light and that your business needs are catered for.
The offices are well maintained, and excellently located which is perfect for us and they provide the firm with a strong foundation to expand and thrive.
People play a fundamental role in how a business is perceived, the staff at Inigo are very personable and the feedback from clients of our firm has always been very positive." – Anthony Campbell
Contact Our London Office
"*" indicates required fields