Inigo Business Centres, a leading provider of flexible workspace, has launched a fun sunflower competition to sow the seeds of entrepreneurship in local schools.
'Grow With Us' is an exciting new project run by Inigo Business Centres together with sister company UBC. The initiative aims to engage primary schools across England and Scotland and educate young people about the world of work and entrepreneurship, in a fun and inspiring way.
Centre managers at each of Inigo's seven business centre locations have distributed sunflower seeds to local primary schools. Students have been tasked with growing and nurturing the plants during the summer term under the guidance of their teachers.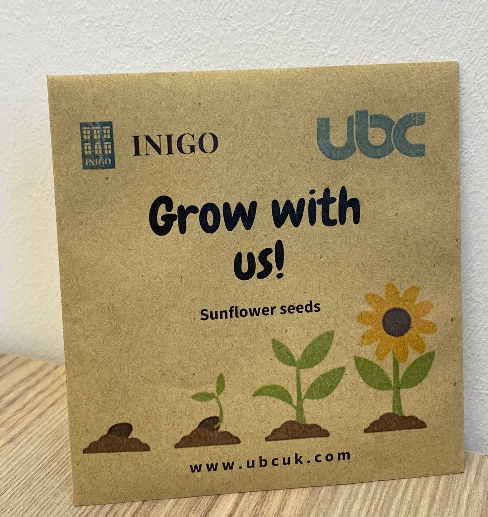 The school with the tallest sunflower will win £1000 in book tokens for the school. The participants will share the progress of their plants on social media using the hashtag #GrowWithUs.
Inigo's centre managers will take a final measurement along with photos of each sunflower and judge the winners at the end of the school summer term.
'Grow With Us' is an exciting opportunity for Inigo to connect with local schools and give young people a positive early encounter of the world of work and entrepreneurship. It's also a great way to introduce young students and their families to the idea of future employment opportunities that are available on their doorstep.
What's more, schoolchildren will be taking part in a fun nature-based activity that builds on essential skills they will need for their future, including careful planning, good teamwork, and of course, regular care of their sunflowers.
Jane Erasmus, Sales & Marketing Director at Inigo Business Centres said: "We are excited to collaborate with our local schools and interact with young learners in an enjoyable yet meaningful way. We hope that pupils will enjoy getting their hands dirty outdoors and seeing their hard work grow into strong and beautiful sunflowers. I for one am excited to see the end results!"
Keep up to date with progress using hashtag #GrowWithUs on Instagram.