For the team behind Certus Property Consultants, the past year has been memorable for all the right reasons.
Officially launched in September 2022, following many months of gruelling paperwork involving policies, procedures, workflow tools, insurances, and IT platforms, the new company has rapidly made a name for itself. Even before the end of their first year, Certus was seeking out new people to join its expanding team and looking for offices in different parts of the UK.
"Our first two offices were in Edinburgh and Swansea, with the first 2 months delivering a healthy level of work," said David Hughes, co-founder and Managing Director of Certus Property Consultants.
"Speaking to our clients, they commented on a lack of good quality consultants in many parts of the UK, so we started to use our network of contacts to determine if there was an opportunity to recruit quality people who we already knew and trusted to match those area."
Fast forward to the start of 2023, and Certus has successfully recruited new consultants and opened offices to serve those regions. This brings their UK portfolio of office locations to four – impressive for a company that's less than one year old!
Among them, Certus uses two Inigo offices. The company's Edinburgh office is based at Forth House, an elegant Georgian property located at Rutland Square, and their most recent addition in Cheltenham is at Inigo's Harley House at Cambray Place.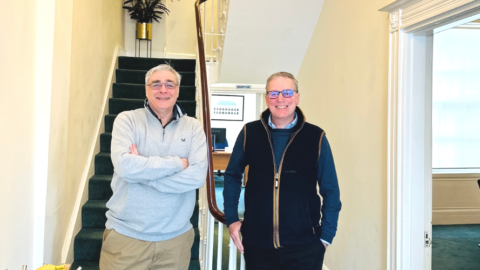 "When we viewed other serviced offices, we found them to be soulless, lacking a community spirit and it was difficult to imagine ourselves in a 'square white box'," said David. "Inigo's offices are unlike most of the other serviced offices, they are more akin to taking a long-term lease of a property where you feel part of something, a business community, with occasional events and charity initiatives to bring everyone together."
"Knowing we have a welcoming and professional business environment allows us to focus on developing our business and not worry about premises."
David also noted that Inigo's friendly welcome and straightforward onboarding process made it an easy decision.
In fact, it was their experience at Forth House and friendly service by Cristelle and Paula that prompted the Certus team to enquire about other Inigo offices when expanding to new locations.
"Knowing Inigo had an office in Cheltenham, it was an easy choice. We visited the office, and Stephanie and latterly Rebecca were equally and friendly and welcoming. We didn't view any other office as we knew the exceptional service being offered from our previous experience in Edinburgh."
Having started 2023 with four office locations and an expanding team, the future certainly looks bright for Certus Property Consultants. What's the secret to their success?
David explained that he, along with his co-founders Gina and Stephen, started out with a clear vision to create an agile, dynamic and forward-looking business to provide best in class service. Together, they knew they could deliver on this mission, given that they have been in the real estate market for a combined period of more than 50 years. What's more, they have all worked for global corporate organisations both as consultants and as clients, which gives them the advantage of already understanding the challenges their clients face.
"Probably the main reason for our expansion is the clear, unambiguous, quality advice we give our clients. We spend a considerable time understanding our client's requirements and deliver what they expect."
Never content to stand still, Certus has already set its sights on a number of milestones – including making a pledge to the SME Climate Commitment to be net zero before 2030.
"It starts with us reducing our own emissions and ensuring climate change is integrated into our business strategy," David explained. "In addition, we are trying to reduce our value chain emissions by trying to influence others to follow suit. For example, we encourage our people to take electric vehicles as a company car where possible, and to take public transport to client meetings."
What else is in the pipeline for the forward-thinking Certus team?
"Our strategy for 2023 is to consolidate our position in the markets we are already in, and constantly evolve and challenge ourselves to be different."
"We are always looking for motivated, dynamic individuals to join us as we believe there are many more opportunities for us in other geographical locations in the UK. We are hoping those locations have Inigo offices too!"
It goes without saying that we at Inigo are thrilled to accommodate Certus in our Edinburgh and Cheltenham offices, and we look forward to supporting their exciting plans in the future.