At Inigo Business Centres, we have the privilege of working with many talented and inspirational business owners. One of them is Dr. Sam Collins, who recently moved into office space at Inigo's Blackwell House in London.
Sam is CEO and Founder of Aspire for Equality, a coaching and mentorship initiative specially designed for women. Sam launched her business back in 2001 with a mission to empower and support women who want to soar in their lives and careers, and that mission remains central to Aspire's ethos today.
Indeed, by making the bold decision to move Aspire into its own permanent workspace at Blackwell House, Sam is living her own mantra and taking the next soaring step for herself.
Until now, Aspire has operated with a virtual office at Blackwell House with flexible access to workspace. Now, the group and its clients can enjoy its own purpose-built, beautifully furnished, and welcoming space in the heart of Central London.
However, this isn't the first time Aspire has taken up full-time residency at Blackwell House.
"We are actually one of the oldest members of Blackwell House. I first had a physical office space in the building about 20 years ago, for about 18 months, and Blackwell House has been our virtual office since then."
So why did Sam decide to go for it again – and why now?
"It was actually another woman that finally encouraged me to do it," said Sam. "She is one of our clients and she really believes in what we're doing. Sometimes it takes another person to help us to take the final step. It's really great to have our own space now."
With its own space at Blackwell House, Aspire is set to take women's leadership to new heights with a powerful programme of events, workshops, and coaching – all designed to reach and connect more women in London and around the world. It will also enable Aspire to design and create events that are "very much aligned to our ethos".
Living the brand is incredibly important to Sam and the Aspire family – so much so, that Sam and the team spent many hours transforming, decorating, and furnishing the office space. Every last detail, from the wallpaper to the choice of teas, has been carefully considered to embody Aspire's mission and bring its purpose to life.
"We spent two months decorating our rooms with the theme of Suffragettes and Art Deco. It was a big family and team effort to do everything. That included vintage furniture which has been upcycled by women, wallpaper that was made to represent the women's vote, and even coffee and teas made by women. We're getting feedback that it looks and feels absolutely amazing!"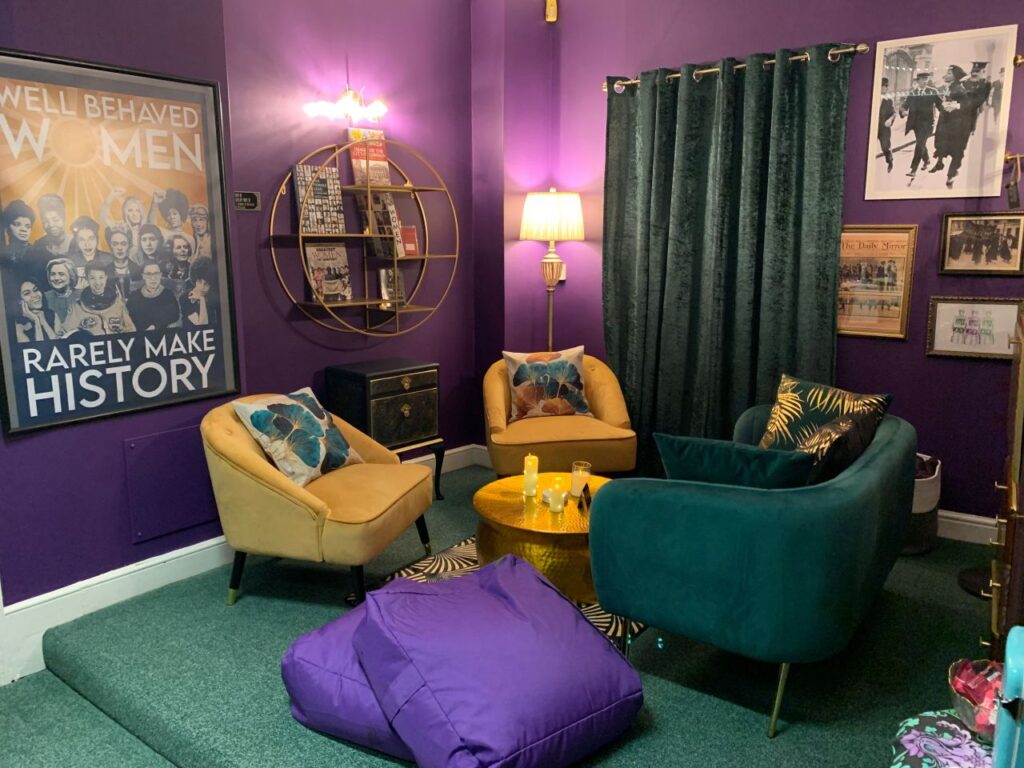 And of course, there are other perks to having a permanent home for the business: "It's quite amazing not to have to pack up all of our stuff after each event!"
So, after 21 years of leading and growing Aspire, what is the secret to Sam's success?
"I would say that it's always having a connection to strong purpose and wanting to make a difference to women. This has also enabled me to be resilient and come up with new ideas and innovations. It has stood the test of time, even when I first started Aspire and it wasn't really a very trendy thing to be involved in."
Looking ahead, Sam's vision for Aspire is to align more closely with the UN sustainable development goals and especially goal five, which aims to achieve gender equality and empower all women and girls.
"We want to take it slow but sure, and make sure we do things to the highest quality. We will be holding a number of workshops, events, conferences, and retreats, as well as one-to-one coaching and the opportunity for membership."
Aspire's space at Blackwell House is a place for women to gather, grow their careers, and make their voices heard. If you would like to discover more about Aspire for Equality and become part of a global network of women making a difference in their lives, start your journey here: www.aspireforequality.co.uk
We at Inigo are thrilled to have Sam and the Aspire family here with us at Blackwell House, and we look forward to continuing to support the team as they embark on the next chapter of their journey.